Description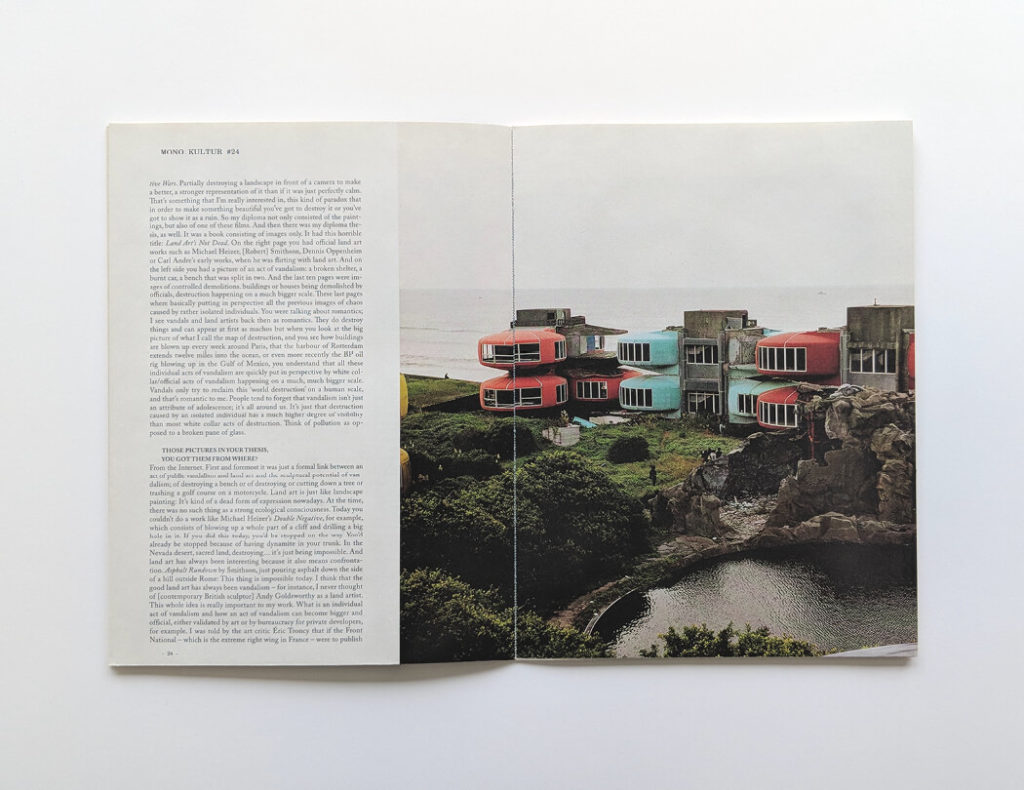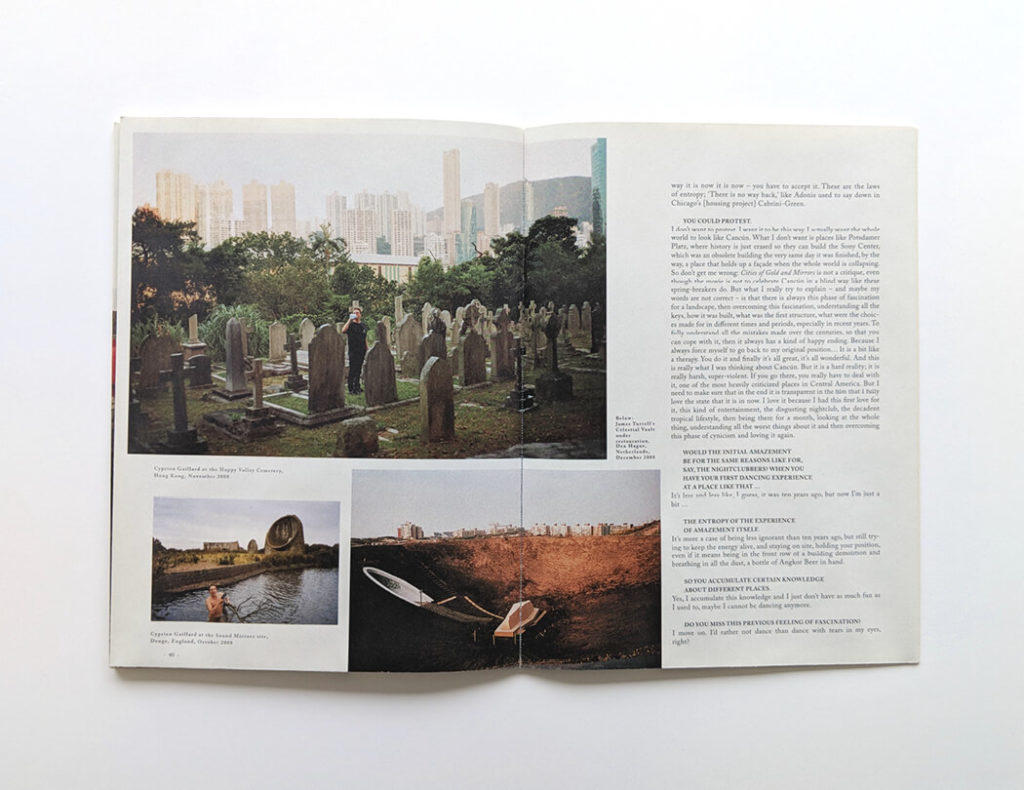 It was late January when Cyprien Gaillard arrived, the time of year when the city is cold and grey. Yet the weather could not dampen his enthusiasm for urban exploration. He could hardly wait to wrap up the installation of his exhibition at the Wexner Center for the Arts to see Columbus, the state capital of Ohio. In line with his artistic interests in the contradictions of our contemporary landscapes, his list of must-sees included structures and places that others would rather ignore, and sites where contemporary claims to history have given rise to surprising visual manifestations.
We had started the day with a drive-by tour of fraternity and sorority houses – a staple of any North American university campus. Equipped with a Polaroid camera, Cyprien Gaillard began to survey the facades: Clustered together in an area of old, tree-lined streets, the architecture borrowed liberally from various periods and styles: Lily-white, Greco-Roman temple fronts alternated with Colonial-style brick facades, Tudor half-timber and 1960s austerity. The buildings laid bare the friction between the grandiloquent desires of the past and the rather more mundane present. Just as we were about to leave, a handful of student revellers emerged from one of the fraternities with beer cans in hand and posed for a photograph in the brisk morning air.
Cyprien Gaillard examines the buildings and landscapes as well as the people who inhabit them. In previous works, the modernist housing block was a recurring theme, a structure associated with the utopian aspirations of the architectural avant-garde in the early 20th century that became ubiquitous in the post-war era. As many of the buildings turned into failed experiments, municipalities in various regions decided to dismantle the structures. At times, the demolitions were turned into spectacular sound and light shows. Gaillard has examined these buildings from different vantage points: depicting them as monuments that conjure up associations with ancient ruins or medieval castles, as backdrops for fringe group behaviour, as sites for mega-spectacles, and once demolished, as massive installations. The digital video Desniansky Raion rehearses these aspects particularly vigorously but they find expression in a number of other works as well. Within these spaces, Gaillard occasionally turns his eye to the rituals of young men (binge-drinking students in Cancún, a gang member dancing, packs of young men meeting in a parking lot in St. Petersburg to fight each other) who appear briefly, like mirages, amidst tower blocks and ancient ruins.
Whether he is looking at rundown tower blocks or fraternities, Gaillard does not share the condescension of sophisticated cosmopolitan travellers who might write off such sights as wayward historic overreach, Landschaftsverschandelung, or the result of poor urban planning. Instead, he brings a distinctive sensibility to his mundane subjects, particularly when they are failing. In her famous Notes on Camp, Susan Sontag perceived in Camp an appreciation for a sensibility of failed seriousness. And the notion of failure – for instance, a grandiose gesture that is passionately pursued but goes wrong somewhere along the way – is something to which the artist is invariably drawn. Sontag's sprawling definition of Camp hinged on an individual's subjective vision and passion for the theatrical and glamorous. Gaillard, in turn, looks predominantly at our built environment and landscapes that have been shaped by developers and urban planners but often end up falling short.
Many of the site visits in Columbus were light-hearted encounters, but they connect to Gaillard's probing analysis of contemporary landscapes and the monuments that define them. For his Geographical Analogies, Gaillard photographed ancient monuments, modern high-rise buildings, overgrown bunkers, land art, graffiti-covered rocks and urban structures as well as public monuments with his Polaroid camera. He arranged the images in modular boxes with nine images each. With equal visual emphasis given to all, the series becomes a personal archive that shows each structure in different states of decay. The unstable nature of the medium, prone to fading, further underscores the point.
With each of his works, Gaillard ruptures or destabilizes established tastes and perceptions of what constitutes a landscape or a monument. In a conversation last fall, he underscored the importance of confronting yourself in a landscape rather than accepting it as a given. It is hardly surprising, then, that many of his films, videos and photographs create a push-pull effect, alternatively seducing and estranging the viewer with pictorial beauty that is undercut by sudden violence or destruction. While he examines landscapes and built structures in his photographs and media works, he also creates his own interventions and counter-monuments. He excavated a German World War II bunker on the coast of Holland for the duration of a show and left it exposed for public exploration (Dunepark, 2009), provoking an encounter with history through aesthetic means.
Gaillard is untroubled by either hopes for a grand future or nostalgia for a heroic past, and he puts before us landscapes and ruins that carry the imprint of conflicting imaginations and desires: individualistic, collective or state-instituted. To this he adds his own layers of evocative and provocative framing and montage. And he challenges us to appreciate our surrounding in all its strange beauty and in full awareness and appreciation of its unresolved contradictions.
Introduction by Catharina Manchanda